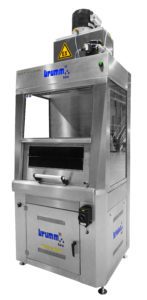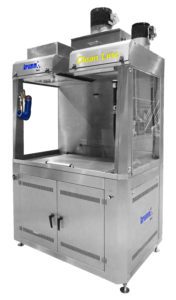 You can find further details here
With the CleanLine we have developed a perfect professional and individual cleaning solution for your company. From the pharmaceutical/medical industry to tool and mould making industry and the 3D printing industry. We can provide a combination device, designed to match your needs. You can choose from our complete product range for the selection of cleaning methods.
This includes our wide range of cleaning methods and also different workspace sizes and the possibility to use ATEX-protected machines if required.
✓ Suction✓ Oscillation
✓ Disinfect✓ Photobleaching    
✓ Degreasing✓ Rinsing
✓ Dust removel✓ Blasting
✓ High pressure✓ Ultrasonic
We can provide ATEX versions for every application.
PRODUCT & SERVICE REQUEST
Modular cleaning with system – the CleanLine as basis for your cleaning process
Always included in our standard version:
Individual dimensions and equipment
available in many dimensions and designs with a width of 1000 – 4000 mm (special dimensions available on request)
Transparent side walls
of safety glass

Supply and exhaust air


in the working area also as floor extraction, including piping at the rear
Brushed stainless steel surface
Integrated lighting
with safety glass
Flexible installation
System mountable and mobile
Safe working through controlled air flow –
even with high thermal loads and explosive materials (ATEX)
Flow
Ideal flow through aerodynamic air nozzle system with inlet profiles in the upper front area of the unit
Exhaust air fan system
Exhaust air and supply air sensors with evaluation units
Targeted air flow
Ventilation and extraction system: Targeted air flow with room air to the rear exhaust nozzle of the working area and floor extraction
Extraction of toxic substances


Extraction device with filter insert for high thermal loads in connection with solvent steams as well as acids and alkalis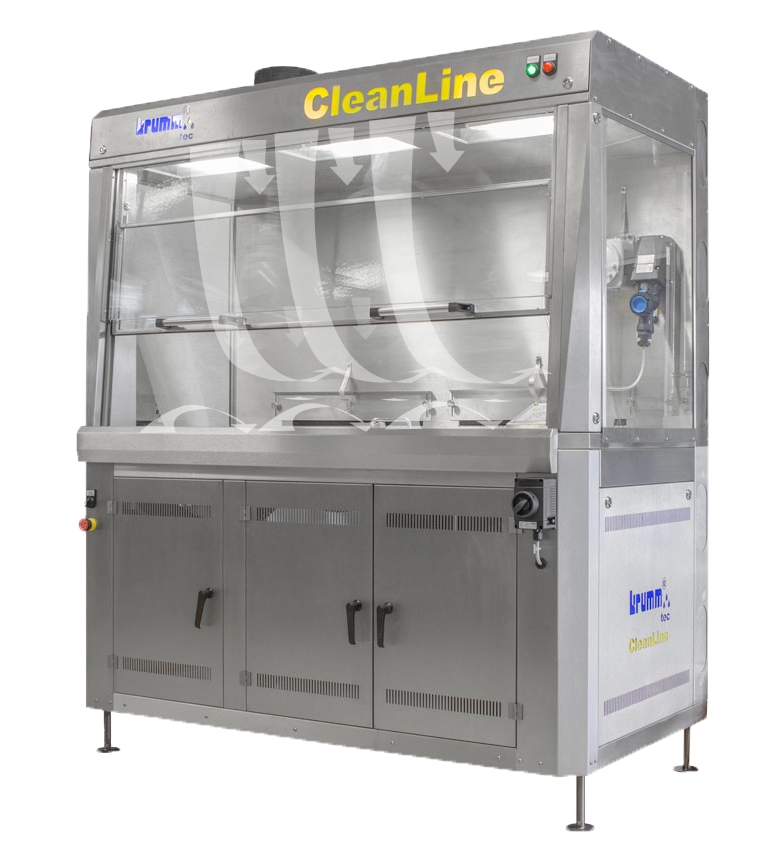 Optimal connection to your individual environment and  the perfect cleaning solution
Adaptation to the conditions of the production site is the basis for a successful cleaning solution. We can set up your cleaning facility, and we can also take over the planning and implementation of the room technology. This includes, among other things, all connections as well as the necessary safety measures.
Adaptation
Adaptation to existing systems, in niches and processes, can be ideally integrated into any building ventilation concept
Integration
Flexible connections, free outputs for building integration, connections for air and media
External operating elements
on the system: control system with monitoring and overtravel, control with master function for room control
Delivery of the system in small elements possible
Protection for user – ATEX protection and controlled air flow
All elements of the control system and electrical components – earthing connections, switches, sensors – are available for the CleanLine systems in explosion-proof design, which means that we can also offer you professional cleaning and individual cleaning solutions in this area. The controlled air flow inside the machine prevents the formation of explosive concentrations in the interior.
Protection for user
and from hazardous substances in the room by extraction of hazardous vapours, aerosols and dusts
Protection from hazardous substances
particles or smallest parts from the system, side glass doors with locking system

Protection from harmful germs
for inactivation of dirt, pathogens, multi-resistant bacteria & viruses
Protection by earthed components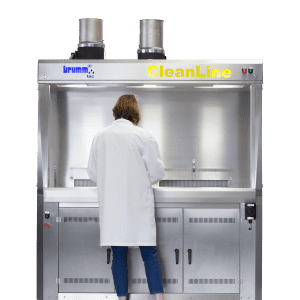 Options and sizes
The CleanLine is available in the following sizes:
CleanLine 1000 | CleanLine 1400 | CleanLine 1500 | CleanLine 1600 | CleanLine 1800
CleanLine 2000 | CleanLine 2600 | CleanLine 2700 | CleanLine 3000 | CleanLine 4000
And can be individually equipped :
✓ High pressure cleaning
✓ Sink and immersion basin
✓ Dry ice basin
✓ Ultrasonic tank
✓ Pump systems
✓ Media cycle
✓ Media supply and tank system
✓ Media separation

✓ Media and hazardous waste disposal
✓ Processing systems
✓ Measuring and weighing systems
✓ Automatic systems    
✓ Filter systems
✓ Window and door systems
✓ Glass interior cabins with sliding system

✓ Drawers
✓ Glove systems
✓ Emergency shower 
✓ Fire and water extinguishing systems
✓ Sockets and connections
✓ Exhaust air (flexibly adjustable exhaust air arms)
✓ Waste container with exhaust air system

Our CleanLine series for professional cleaning and individual cleaning solutions
CleanLine 1000 
CleanLine 1400
CleanLine 1500
CleanLine 1600
CleanLine 1800
CleanLine 2000
CleanLine 2600
CleanLine 2700
CleanLine 4000